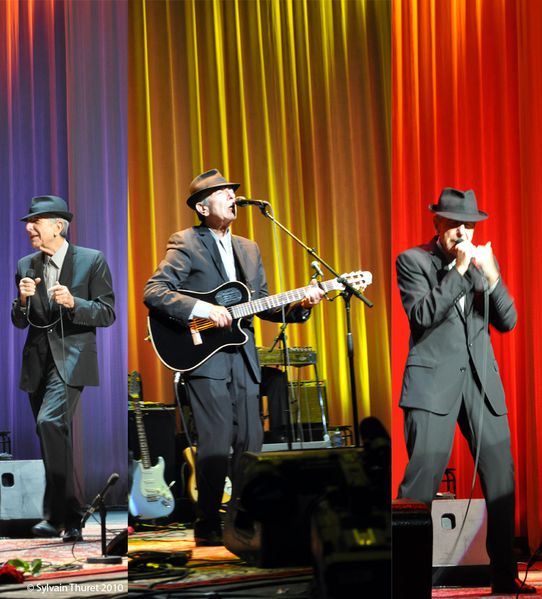 Through the days of shame and a few distress nights, I tried to be there. I really tried. My heart poisoned with doubt, it was a hard struggle to relax and enjoy the opportunity. But I surrendered nonetheless, so easily.

It's been 40 years now since some orange tea filled the cup. And who else could, past 76 years old, hold an audience of thousands like a passionate lover, for almost three immaculate hours of heavenly crafted, after the apocalypse, I-still-love-you, songs? The answer is a clear cut: Leonard Cohen. And no one else.

His 1988 come back with I'm your man, the album, the Dominique Isserman video, the style & the general artistic direction was deemed a masterstroke, putting him right on the top of every mouth again. His brilliant return at the age of 74 in 2008 was a glorious surprise, as I could secure a seat for the marvelous Olympia opening night. Tonight in Marseille the surprise turns into an all-around-the-globe-road-show that's been tended for two years by the secret ones gathered, tied to him like a sealed, invisible kiss.
With striking professionalism and a kindness to his audience ringing with the utmost sincerity, he's going for something really unique in the pop trade of workers in song. Unique to the length of Roy Orbison's Mystery Girl, to the length of Johnny Cash's final statement through his string of American Recordings albums. This live thing, for once, is so much more than a mere studio recording, that is rumored to be in the works anyway, with three new and solid songs he's been playing live for almost a year now. He created and sustained an ongoing gorgeous music & light show along with a band of secured friends and handpicked talents, creating a tight family like atmosphere. These guys are not mercenaries, and the respect is clearly mutual. Commanding with style and excess of humbleness onstage, this incredible and lasting come back sets him up, if there still was any doubt, as the true poet of our generation.

Blending all his talents in, giving the songs from different eras of his career the same resounding, crystal clear and warmful tone, this could be his final masterpiece, his gift and farewell to the longtime, loyal fans and the whole world alike.

People live with his songs their whole life through, and have been doing so since 1968. One song after another, memories are unfolding, the dearest ones, as tears roll by on many faces around, including mine. Through his career as a novelist and songwriter, Leonard Cohen truly added some prayers to the book, and these sung poems don't even advocate religion or politics, but rather the sense of oneself in the face of adversity, loss, doubt, longing and friendship.

Seeing his earthy figure dancing, kneeling and even jumping like a satyr coming straight from some enchanted woods out of a medieval book, It's fantastic to know that he's celebrating his 76 birthday today with us. And some other times If you look carefully, you will see him as an old, fragile figure, humbly standing next to his own craft. Given to glory to the handpicked Webb sisters' angelic choir, If it be your will sees him in humble retreat, his eyes closed, and he sings it silently like it was the work of somebody else. As if it had been released to him by angels and for angels.
In some Stephen King post apocalyptic novel, I think It's the Dark Tower's first tome, whose location is "some version of our earth", they still sing Hey Jude. Well, in a century or two, people may very well sing Waiting for the miracle instead. And as the screens flanking the scene show him alone, centerfold, the image strikes me as it is, for our man is very much lonely, at the center of the scene.

Thanks to Olivier & Patrice for the invitation.

Happy birthday Leonard.
Take good care!

Sylvain Thuret
22.09.2010




More

The French speaking community:
http://www.leonardcohensite.com/

My own heading there:
http://www.leonardcohensite.com/facts/

My 2008 Olympia account (in French):
http://www.leonardcohensite.com/tour2008/tonightwillbe.htm

Par Sylvain Thuret - Publié dans : Leonard Cohen